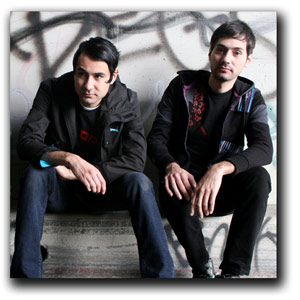 Acid Circus

The other founding half of Droid Behavior, Acid Circus is comprised of brothers Vangelis and Vidal Vargas. In an industry where DJs no longer dominate the action with pressed wax, live PAs have taken digital mixing to another level. No strangers to tweaking everything within earshot, Acid Circus have mastered the art of live performance: Dropping original music, custom remixes, re-edits, and samples from both current and classic tracks, their unique and aggressive mix of electro, house, and every strain of techno in between has blurred the lines of dj set and live act.
Their intense and inspiring performances have placed them alongside major players Magda, Jeff Mills, John Tejada, Konrad Black, Tony Rohr, Ellen Alien, and Claude von Stroke at undergrounds, festivals, after parties, and club nights throughout the United States, Mexico, and Dominican Republic. Their releases have been charted and heavily played by techno heavyweights Speedy J, Adam Beyer and Richie Hawtin.
Besides acting as ambassadors for the Droid sound around the US, they have been involved with every aspect of LA's techno movement and spearheaded it in many ways. From the online magazine D-node, to A&R and PR for the Droid recordings label, to extensive event promotion and production, Acid Circus has helped create a social network of DJs, promoters, producers, and fanatics that support rather than compete.